MaryPIRG Student Climate Action Coalition (MSCAC)
Coordinators: Reese Barrett
Meeting Times: Monday at 8:30pm
Email: [email protected]
Website: mscacoalition.wixsite.com
Follow us at @umd.mscac!
MSCAC (MaryPIRG Student Climate Action Coalition) is a campaign founded at UMD that includes students from universities across the state of Maryland. We're working to pass statewide legislation to reach carbon neutrality on all Maryland public campuses. Through a combination of campus and state-level advocacy tactics and education, we are fighting for environmental justice right in our own backyards.
Zero Hunger
Coordinators: Ayanna Chambers and Buckley Sake
Meeting Times: Wednesday at 6:00pm
Email: [email protected] & [email protected]
Food insecurity is defined as a lack of consistent access to enough nutritious food to support a healthy lifestyle. One out of nine people in the United States are food insecure, and on college campuses, this issue is magnified; one out of six students in higher education experience food insecurity. In a campus and community with numerous resources and food available, there is no excuse for so many students to not know where their next meal is coming from. Our solution is to know who is food insecure and get them the resources they need. To do so, we must address the stigma surrounding food insecurity through educating students, faculty, and staff on this current and pressing issue. Through stomping the stigma, we will be able to reach students who are food insecure, and redirect underutilized resources on campus, such as the food pantry, to those in need.
Public Health
Coordinator: Alivia Saunders
Meeting Times: Tuesday at 7:00pm
Email: [email protected]
Right now, the world is dealing with an unprecedented global pandemic because of COVID-19. This virus has uprooted the everyday lives of people across the globe, including the students and employees at the UMD Campus. Whether we come back to campus in the fall, or not, it is important to address the many physical, mental, and emotional problems facing individuals during this pandemic and help with the transition to the new normal. We plan to advocate for programs that will help the emotional and mental wellbeing of students and employees on campus and ensure, if we return to campus, that UMD will provide students and employees with proper PPE and testing kits to promote physical wellbeing in the UMD community.
Stop the Overuse of Antibiotics
Coordinator: Glib Brower
Meeting Times: Thursday at 7:00pm
Email: [email protected]
Livestock producers are routinely giving antibiotics to animals to make them grow faster or help them survive crowded, stressful and unsanitary conditions. Overusing these drugs—in humans or animals—breeds bacteria resistant to the antibiotics, threatening the future effectiveness of these medicines, and putting our health at risk. Every year, at least 2 million people get sick, and up to 162,000 Americans die from antibiotic-resistant infections. Given the stakes, we shouldn't allow even one large-scale farming operation to overuse antibiotics in this way. And yet approximately 70 percent of medically important antibiotics sold in the U.S. are intended for use in livestock and poultry. Our campaign is working to convince Wendy's to stop purchasing beef raised with routine antibiotics. As one of the largest purchasers of beef in the US, we know that Wendy's making the change can shift the entire industry!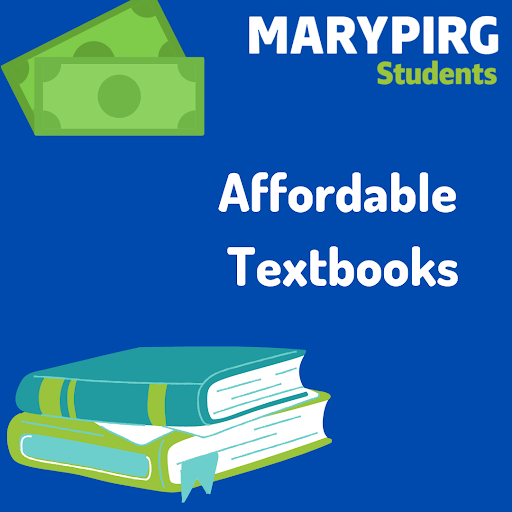 Affordable Textbooks
Meeting Times: Thursday at 6:30pm
According to the College Board, the average undergraduate student should budget between $1,200 and $1,300 for textbooks and supplies each year. That's as much as 40% of tuition at a two-year community college and 13% at a four-year public institution. For many students and families already struggling to afford a college degree, that is simply too much – meaning more debt, working longer hours, or making choices that undermine academic success. Our goal this semester is to transition introductory courses at UMD to open textbooks – long term we want every student to have access to high quality free course materials
New Voters Project
We believe that the full participation of young people in the political process is essential to a truly representative, vibrant democracy. Together young people have the power to elect the next generation of leaders who will fight for our shared vision of the future, but only if we vote. MaryPIRG's New Voters Project works to activate the largest voting group in the country. Through tabling, text and phone banking, online outreach, and more we work to make sure every student has the opportunity to have their voice heard in our elections.